Quite a title, isn't it? But that's how it feels this morning.
This spring has already been good. The usual warm-up at the mouth of the Big River has been excellent. The herring run has been fascinating. I've seen my friends fight and capture big stripers. I'm lucky as all hell - I can strike out for CT's Big Rivers, to beautiful Rhode Island & Providence Plantations, or I can fish the discreet coastal marshes mere minutes from my home. All of these scenarios are superb, but it is the last that gets my blood up most. It is about culverts, concentrated bait, and skinny water. It is "trout fishing" for large striped bass.
I fished these local spots last year for the first time and I had modest success. Last night I returned for the first time in 2010 to see if there were shrimp around; perhaps a sign for the warmer weeks to come. The tide turned like a pendulum balance at 8.40 precisely, a full 3 hours after high at the nearest marker on LI Sound. My flies were barely wet before the first bass hit, and in the next hour I was busy fighting and landing lovely, chubby stripers. It was enough that the fish were there - they were back - but significant too because I was catching them on one of the foam shrimp recently tied by my own hand (a pattern of Andrew's). Another small but meaningful nod that sometimes one does manage to step in the right direction.
Foam Shrimp. The "fly" at upper right was the trick tonight.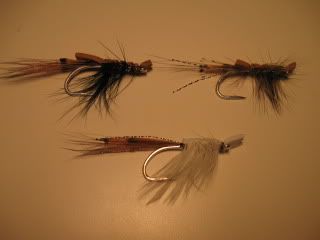 With weak moon the night was dark but alive with stars and the usual sounds of spring. As I walked back to the car, completely elated, I heard the tell-tale noise that meant the night would not yet be over for me: bass were holding on station, popping on shrimp in the glassy waters of another bait funnel close by. Last year we started (say it again:
started
) to build our knowledge of how to fish here - a different game was needed; a static drifted fly; no movement. It is dry fly fishing for trout, only the quarry are larger and don't have the table manners. I lengthened my cast to cover the rises and hooked a fish straight off - our apprenticeship was already paying dividends. Another two bass followed, before a thumping take wrenched the 9 weight from my grip. This fish was better, though all gave great account. Laying next to my rod, she stretched from butt to stripping guide, a distance of 30 inches.
The best from a batch of "keeper" bass from my local waters, my first of this size since our arrival on the shoreline, all taken on flies tied by my hand for the first time this past year.
This morning I can only think about last night and my wonderful fortune to go fishing.
--Jon